Hurry, Last Chance for Free Dashboard Webinars & Course
Just a quick reminder that registration for the awesome Excel Dashboard and Power BI courses, by Mynda Treacy closes on Thursday July 13, 8pm in Los Angeles, to be exact.
Learn how to make interactive Excel Dashboards in Excel, Power BI or both and open up job opportunities with your newfound skills.
There's no denying that Dashboard skills are in demand for Excel users everywhere. Mynda's courses will have you up to speed quickly so you can start benefiting ASAP.
Excel or Power BI?
If you're not sure which course, then if you're quick you can catch a replay of the free webinars and see both tools in action.  Indeed you will learn many Excel tricks from the webinars alone.
Click here for the webinar replays.
Mynda also put this list of Pros and Cons together to help you decide whether Excel or Power BI is the right tool for your needs: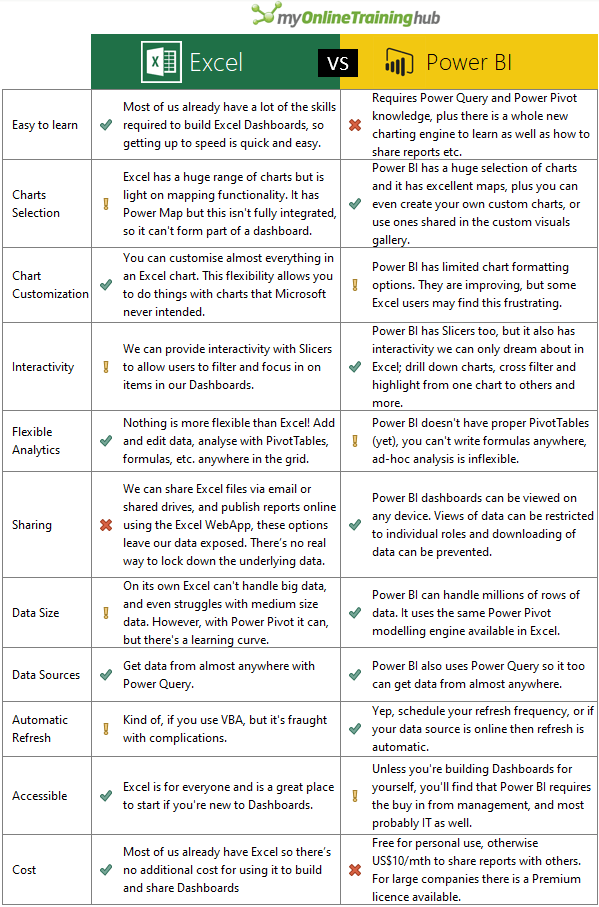 If you are still not sure about which one to go for, I would suggest Excel Dashboard first. With no doubt, there is very high chance that you see Excel on every computer at your workplace; while Power BI is still behind in terms of penetration, although it is catching up at a high speed.
Registration Closes July 13
Find out more and compare Excel vs Power BI for building Dashboards on the course pages below:
Click here for the Excel Dashboard course
Click here for the Power BI course
Tip: you can get the Dashboard and Power BI courses in a discounted bundle on the Power BI course page here.
Disclosure: I make a small commission for students who join Mynda's course via my site, but as you know I don't just recommend anything and everything. It has to be of outstanding quality and value, and something I can genuinely recommend. After all, if doesn't live up to what I've promised you'll think poorly of me too and I don't want that. Oh, and just watching the course videos won't transform your career, you have to actually put it into practice, as if reading a cookbook won't make you a chef.