If you've ever felt like:
"My Excel reports take way too long to update each month/week"

"I spend hours collating and cleaning data, updating formulas and charts and then no one reads my reports anyway, what's the point?"

"If I could just impress the boss I'd get that pay rise/promotion I deserve"

"I need to get my Excel skills up to date so I can stand out from the crowd of other job applicants"

"I'm not sure how to approach setting up my Excel workbook the right way, so it's easy to build and maintain"
Then you should spend an hour, or even three hours, to watch the free Excel Dashboard Webinars by Microsoft Excel MVP, Mynda Treacy.
Webinar 1 – Excel Dashboard for Excel 2007/2010/2013/2016/2019/Office 365
The first webinar will teach you how to use Excel to build this interactive dashboard below, no additional software or add-ins required, just plain old Excel and some data.
Click here to register for webinar 1.
Webinar 2 – Excel Dashboard for Excel 2010/2013/2016/2019/Office 365 using Power Query and Power Pivot
Excel is evolving; in the last couple of years Microsoft have added new tools like Power Query and Power Pivot, to name a couple.
Embracing these new tools will not only enable you to get your work done more quickly, but also since less than 1% of Excel users know these tools you're going to have a huge competitive edge in the workplace.
It's easy to ignore these developments and continue doing things the way you always have, but that won't get you ahead in your career, but you know that right?
If you have Excel 2010, 2013, 2016, 2019 or Office 365* then this webinar will showcase how you can use Excel's Power Query tool to get data from multiple sources, mash it up with Power Pivot, analyse it in PivotTables to create this interactive Excel Dashboard.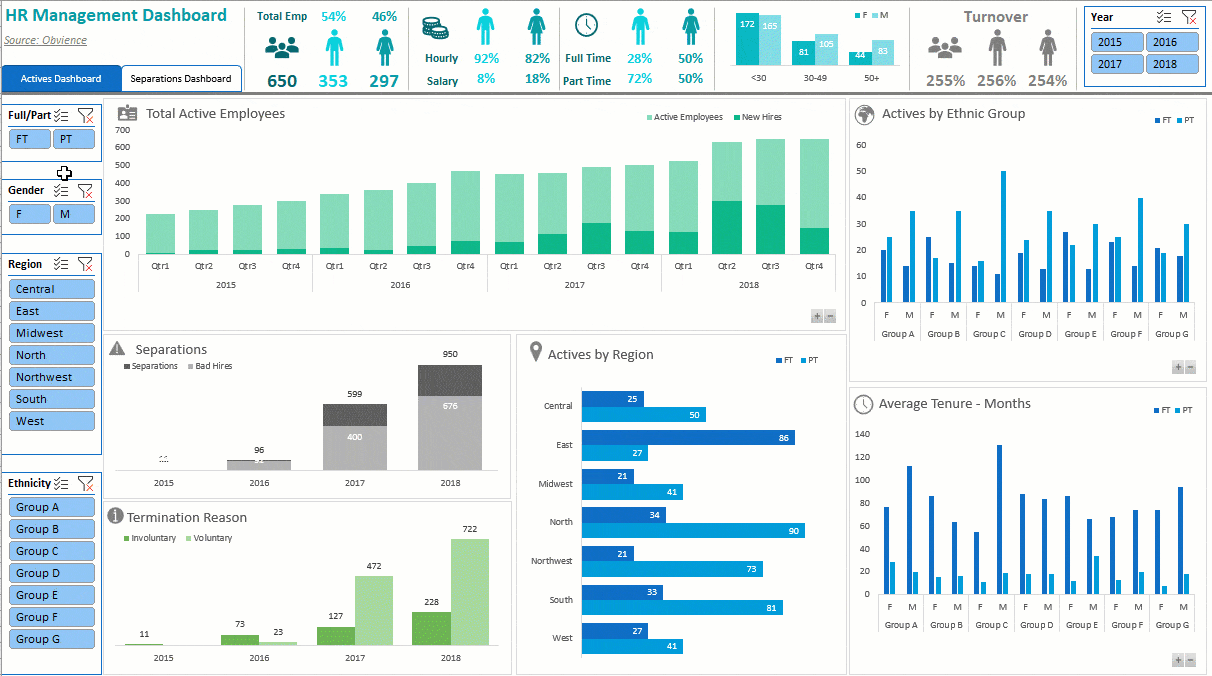 *Power Query is available with all versions of Excel 2010, 2013, 2016, 2019 and Office 365. Power Pivot is available with the desktop version of Excel 2010 and Excel 2013/2016 Office Professional, Office 2019, Office 365, or in the standalone versions of Excel 2013/2016. Power Query and Power Pivot are not available for Mac.
Click here to register for webinar 2.
What people are saying about the webinars
Over 35,000 people have attended Mynda's Excel Dashboard webinars and this is what some of them had to say:
"Thank you! This webinar has already saved tremendous time and effort. I tried some of the techniques you illustrated for a cumbersome report update that I can see will cut our preparation time by 2/3's or more. ….awesome! Many thanks!!!!"

Cynthia Tashjian
"WOW, just WOW
Can't type more now – am trying to create a dashboard. Thank you Mynda!"

Susan
"The webinar was fantastic! I really enjoyed every moment. As you said, it was fast paced, but I am so excited to go back and review the presentation. We have been trying to get a dashboard started for my department and this really motivated me to take the lead. Thank you so much!"

Kathryn Puskar
Dashboard Course Format
If you've seen Mynda's free Dashboard Webinars and you're ready to take your dashboard skills to the next level then check out Mynda's Online Excel Dashboard course.
It will teach you how to build amazing interactive dashboards that impress your boss, get you noticed and help you stand out from the crowd. The best part, aside from the praise from your boss and colleagues ;-), is you'll also learn loads of tips you can use in your everyday Excel work to get things done more efficiently.
I highly recommend the course, but don't take my word for it. You can read further comments from past students and find out more here.
Early Bird Discount
If you register by Thursday, May 16 it's 20% off.
So, do yourself a favour and check out the course.
Invite a Friend
Feel free to share this to your friends and colleagues and invite them to attend Mynda's free Dashboard webinar too. They'll thank you for it.
Disclosure: I make a small commission (at no additional costs to you) for students who join Mynda's course via my site, but as you know I don't just recommend anything and everything. It has to be of outstanding quality and value, and something I can genuinely recommend. After all, if it doesn't live up to what I've promised you'll think poorly of me too and I don't want that. Oh, and just watching the course videos won't transform your career, you have to actually put it into practice, as if reading a cookbook won't make you a chef.