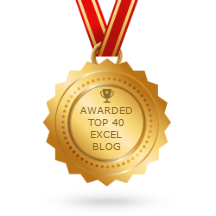 What an honour and pleasant surprise to be selected as one of the Top 40!
Recently I am quite busy (and moody) at work, I mean the real work at office.  You must be thinking my works involved using Excel a lot and I should be able to finish them in an efficient way.  However the fact is… Excel is the barely opened application in my PC at work.  When I use Excel at work, I probably use it for "non-analytic" purposes.  Can't imagine, right?
Then one day, I received an email from Feedspot saying that wmfexcel.com has been selected as one of the Top 40 Excel Blogs.  That was the truly refreshing moment of my boring day.
Frankly speaking, I think I have not reached this level yet.  Nevertheless I am super happy that my blog is getting more popularity.  If you are reading this, I sincerely thank you! 🙂