Well, I know.  You may have read similar topics before in my blog.   You are now seeing it again because the awesome Excel Dashboard Course by Mynda Treacy is now open.  What's more exciting?   Mynda puts her popular courses "Excel Dashboard" and "Power BI" together so that you get the most out of it.  I like her table comparing pros and cons of Excel vs Power BI.
Excel vs Power BI Pros and Cons
The table below compares key points between Excel and Power BI: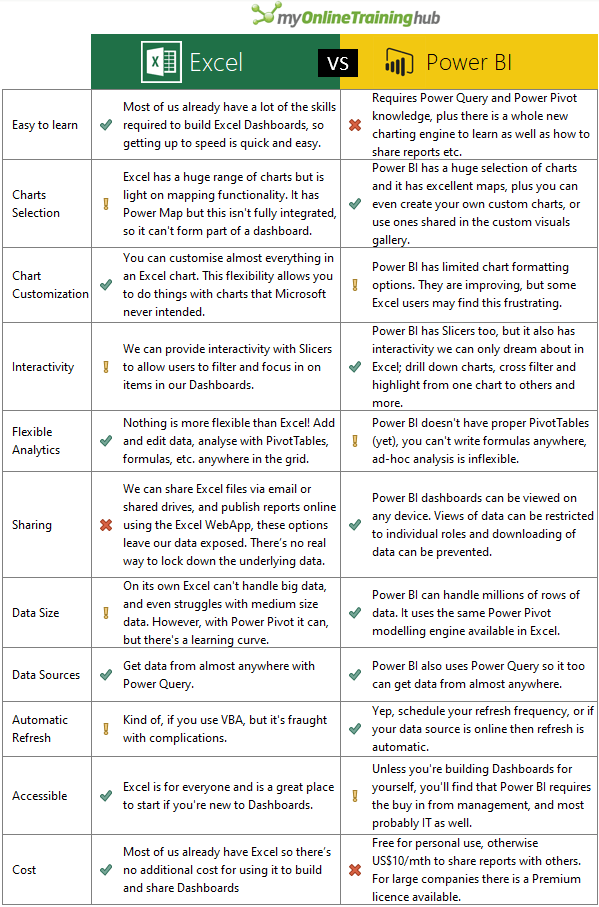 What a great summary!  Nevertheless, I don't agree on the "Cross" being put next to "Easy to learn" for Power BI.  It really depends.  If you possesses skills and knowledge about Power Query / Power Pivot, you will find Power BI is super easy to learn.   Having said that, if you are advanced Excel users but new to Power Query / Power Pivot, eager to acquire Dashboard skills, the Excel Dashboard Course would be a good start to next level.  Let's see what are offering by Mynda.
Free Webinars
There's no denying that Dashboard skills, whether in Excel or Power BI, or both are a huge advantage to Excel users around the world and in a vast range of industries. Just look at any job website and you'll plenty of jobs that mention 'Dashboards' in the description.
To get you off to a running start Mynda is hosting a series of free webinars to teach and demonstrate Excel and Power BI for building dashboards.
Webinar 1 – Excel Dashboard for Excel 2007/2010/2013/2016
The first webinar will teach you how to use Excel to build this interactive dashboard below, no additional software or add-ins required, just plain old Excel and some data.
Click here to register for the webinar.
Many Excel users will already have the skills to build this dashboard, and seeing Mynda put them together will be exciting and inspiring when you realise how quickly you can get up and running with Excel dashboards.
Webinar 2 – Excel Dashboard for Excel 2010/2013/2016 using Power Query and Power Pivot
Excel is evolving; in the last few years Microsoft have added new tools like Power Query and Power Pivot, to name a couple.
Embracing these new tools will not only enable you to get your work done more quickly, but you'll also have a huge competitive edge in the workplace because less than 1% of Excel users know these tools.
It's easy to ignore these developments and continue doing things the way you always have, but that won't get you ahead in your career …you know that, right?
If you have Excel 2010, 2013 or 2016* then this webinar will showcase how you can use Excel's Power Query tool to get data from multiple sources, mash it up with Power Pivot, analyse it in PivotTables to create this interactive Excel Dashboard.
*Power Query is available with all versions of Excel 2010, 2013 and 2016. For Office 365 users with Excel 2013, Power Query is only available in Office 365 ProPlus. Power Pivot is available with the desktop version of Excel 2010 or Excel 2013/2016 Office Professional, Office 365 ProPlus, or in the standalone editions of Excel 2013/2016. Power Query and Power Pivot are not available for Mac.
Click here to register for the webinar.
Webinar 3 – Power BI Dashboard Reports (Replay)
See what all the hype is about first hand in this replay of Mynda's Power BI webinar where she builds these two interactive dashboards in under one hour:
Click here to see the Power BI webinar replay.
Who is Power BI for?
Power BI is for the Excel user who is ready for more. More features, because Power BI Dashboards can do things you simply can't do in Excel, and more skills to add to your résumé.
So, if you're wanting more interactivity from your Dashboard reports and you're prepared to learn some new skills then check out Power BI.
What people are saying about the webinars
Over 25,000 people have attended Mynda's webinars and this is what some of them had to say:
"Thank you! This webinar has already saved tremendous time and effort. I tried some of the techniques you illustrated for a cumbersome report update that I can see will cut our preparation time by 2/3's or more. ….awesome! Many thanks!!!!" Cynthia Tashjian
"WOW, just WOW Can't type more now – am trying to create a dashboard. Thank you Mynda!" Susan
"The webinar was fantastic! I really enjoyed every moment. As you said, it was fast paced, but I am so excited to go back and review the presentation. We have been trying to get a dashboard started for my department and this really motivated me to take the lead. Thank you so much!" Kathryn Puskar
"Oh. My. God. I know nothing! My jaw dropped a couple of times as you casually mentioned a way to manipulate PivotTable data. That's the problem with being largely self-taught – there are huge gaps in my knowledge." Ann
"I presented my first dashboard to the CEO yesterday and he was ecstatic. Since we are downsizing I was very worried about my job, but after seeing his reaction…I understand that my job is secure (for now). Thanks!" Iris Stein
Invite a Friend
Feel free to share this post to your friends and colleagues and invite them to attend Mynda's free Dashboard webinars. They'll thank you for what they can learn from the webinars.
Webinar Prerequisites
All you need is an internet connection, a web browser and speakers or headphones.
You don't need Power BI or Excel to attend the webinars.
20% Off Excel Dashboard and Power BI Courses until July 7
If you're ready to take the next step and add these skills to your repertoire then don't miss out on the discounts on Mynda's Excel and Power BI Dashboard courses. You can even get multiple courses in discounted bundles.
Click here for the Excel Dashboard course and bundles
Click here for the Power BI course and bundles
Both the free webinars and Mynda's Dashboard and Power BI courses are available for a limited time, so hurry.
Disclosure: I make a small commission for students who join Mynda's course via my site, but as you know I don't just recommend anything and everything. It has to be of outstanding quality and value, and something I can genuinely recommend. After all, if doesn't live up to what I've promised you'll think poorly of me too and I don't want that. Oh, and just watching the course videos won't transform your career, you have to actually put it into practice, as if reading a cookbook won't make you a chef.